Carolyn Steinmetz | Chairperson
Carolyn Steinmetz is Executive Vice President and Head of Content Finance at STX Entertainment. Her previous experience includes heading Corporate Strategy at Exclusive Media, roles at Clear Scope Partners and graduate internship positions at Paramount Pictures, Warner Bros. Entertainment and NBCUniversal. Prior to business school, she was a financial analyst at Goldman Sachs and Bear Stearns. Carolyn is the President of FEME (Female Executives in Media and Entertainment) and a founding member of Chief's Los Angeles chapter. Carolyn holds a degree in Economics and Statistics from Dartmouth College and an M.B.A. from UCLA Anderson School of Management.
Sarah Duncan
Sarah Duncan is on the content team at Airtime, a live social platform founded by Sean Parker. Prior to Airtime she worked at Goldman Sachs, and she held internships at both MRC Studios and FountainVest Partners. She has been involved with FEME for two years, and also serves on the board of the Davidson Athletic Fund. Sarah received her BA from Davidson College and her MBA from the UCLA Anderson School of Management.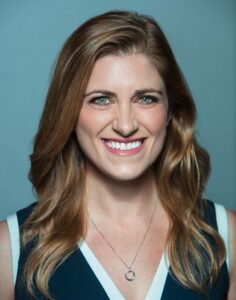 Lisa Holme
Lisa Holme is Group SVP of Content and Commercial Strategy for Discovery, Inc., leading programming and partnership for Discovery's aggregated, direct-to-consumer streaming service. Holme oversees the editorial vision for Discovery's direct-to-consumer offerings, working closely with the company's content and programming teams to source original content and license third-party programming. She also collaborates with the Affiliate and Ad Sales teams to prioritize, structure and negotiate distribution deals for direct-to-consumer products with the goal of driving subscriber growth. Prior to joining Discovery, Holme led the investigation and strategy for Hulu's international expansion, which followed several years of leading Hulu's Content Acquisition team, where she was responsible for negotiating tens of billions of dollars' worth of content deals, helping to expand the service from zero to roughly 30 million subscribers. Before joining Hulu's acquisitions team in 2010, Lisa worked in creative at Illumination Entertainment and as a consultant in McKinsey & Company's Media & Entertainment, Technology, and Telecom Practices.
Holme graduated from Yale University with a degree in Psychology. She is on the board of FEME (Female Executives in Media and Entertainment), Yale in Hollywood (for which she co-leads the Summer Internship Program), and was a founding board member of HULA (the Women's group at Hulu).  Lisa was named to Hollywood Reporter's Next Gen list in 2015, to Variety's New Leaders list in 2016, and to NYC TV Week's 40 Under 40 in 2018.
Megan Klein
Megan serves as Executive Vice President of corporate communications for Fox Corporation, overseeing media relations, message development and deployment, financial communications, internal communications as well as corporate social responsibility. Prior to joining Fox in 2016, she worked at Sony Pictures Entertainment, where she was part of the cross-functional team that managed the cyberattack investigation, communications, and recovery efforts. Megan began her career at The Abernathy MacGregor Group, providing financial, crisis and strategic communications counsel to clients including Hewlett Packard, Yahoo!, Washington Mutual and TCW. She is a graduate of Amherst College and holds MBA from UCLA Anderson.
Sophia Lin
Sophia Lin is a Senior Vice President of Corporate Finance at MRC Entertainment. Formerly she worked in the Entertainment Industries Group at J.P. Morgan where she provided financing for entertainment companies in the film, television, digital and interactive content space. Prior to J.P. Morgan, she worked at MUFG Union Bank and Deloitte & Touche.
Mariaesther Moncada
Mariaesther "Meme" Moncada is a Vice President in the Entertainment Industries Group at Bank of America where she provides financing for entertainment companies in the film and television space.
Prior to this role, she was a Commercial Underwriter at Bank of America for four years. Prior to Bank of America, she worked at Moody's Credit Rating Agency in New York City as a Credit Analyst. Meme grew up in Los Angeles and received her B.A. degree in Math and Economics from Wellesley College.
Jennifer Randle
Jennifer Randle is the EVP of Finance & Operations. Jennifer's responsibilities include the accounting and financial reporting of the organization, as well as various other operational components. Prior to joining The Chernin Group, LLC in 2012, Jennifer was Controller at Century Park Capital Partners where she was responsible for the accounting and financial reporting for the limited partnerships, general partnerships, and the management company. She also oversaw the company's administrative and operational efforts, which included information technology and human resources. Prior to joining Century Park Capital Partners, Jennifer spent nearly four years at Worldview Technology Partners where she was responsible for all accounting and financial reporting for the limited partnerships, general partnerships, and the management company. Jennifer started her career at KPMG, where she spent nearly three years in the San Francisco office auditing large public companies and pre-IPO start-ups. Also, during her time at KPMG, Jennifer spent time in the tax group and worked on tax compliance for venture capital firms and law firms.
Jennifer is a Certified Public Accountant in the State of California, and hold a BS degree in Business Administration with an emphasis in Accounting from California State
Mitzi Reaugh
Mitzi Reaugh is currently VP, Studio Strategy & Analysis at Netflix.  Previously she worked with Verizon and Jaunt XR in the immersive technology industry.  At Verizon, she worked as GM, Growth Strategy & Product Development, Immersive Media for Verizon following their acquisition of Jaunt XR where she served as President & CEO and Board Member.  Mitzi has deep experience in digital media and in scaling new businesses.  She previously was the co-founder of GoodLooks, a marketplace connecting successful individuals with vetted and curated professionals to help individuals achieve their personal growth goals.  Her previous experience includes Miramax, Nielsen, NBC Universal/Hulu, The Chernin Group, and McKinsey & Company.
Mitzi received her Bachelor's Degree from Claremont McKenna College and an MBA from The Wharton School, University of Pennsylvania. She also serves on the Board of Directors for Harmonic (Nasdaq: HLIT) and previously for Entertainment One (LON: ETO) before being acquired by Hasbro.  She is a founding member and on the board of the non-profit FEME (Female Executives in Media and Entertainment).
Vanessa Roman
Vanessa Roman is a partner at Akin Gump Strauss Hauer & Feld LLP. She advises a variety of clients in the entertainment industry, including financial institutions, borrowers, distributors and independent production companies. She provides counsel in various aspects of the production, financing and distribution of film and television projects. Vanessa helps clients address issues related to the rapidly-changing landscape of the entertainment industry, including the proliferation of streaming services and the rise of virtual reality. She holds a B.A. in Political Science and Psychology from University of California, Los Angeles, and a J.D. from the University of Southern California.
Daisy Stall
Daisy currently serves as Executive Vice President and head of the Entertainment Finance group for California Bank & Trust.  Her career spans over 25 years in banking and finance within the entertainment industry.  Prior to California Bank & Trust, Daisy was Managing Director and head of CIT Bank's entertainment finance group.  Prior to CIT Bank, Daisy spent nearly a decade in finance at Sony Pictures, serving as the studio's Assistant Treasurer.  While at Sony, she led the studio's Treasury team and was responsible for managing ~$1BN in global liquidity, all foreign exchange, and capital funding for the studio's film and TV productions, as well operating subsidiaries in over 33 countries around the world. She also served on several executive teams responsible for executing the studio's strategic initiatives including M&A and corporate financings. Prior to Sony, Daisy worked for Union Bank.  Daisy earned her BA from UCLA.
Susan Shelton Vigon
Susan Shelton Vigon is currently Senior Vice President of Business and Legal Affairs and Associate General Counsel at Fox Corporation. In this role, she manages the relationship between top-four broadcast network, FOX, and its affiliate partners nationwide, and leads the FOX legal team in structuring and negotiating billions of dollars' worth of network distribution deals on both traditional and digital/streaming platforms. Prior to joining Fox, Susan served as Corporate Counsel and Assistant Secretary for Hearst Television, Inc., an affiliate of The Hearst Corporation. Susan began her legal career at the New York office of "magic circle" firm Clifford Chance LLP, where she advised high profile entertainment and financial clients on mergers and acquisitions, securities and general corporate matters. Susan holds both a J.D. and LL.M. from Duke University School of Law.
Krista Wegener
Krista Wegener is a 20-year entertainment industry veteran and is currently SVP, Premium Content Sales at Sony Music Entertainment. Prior to Sony, Krista has held senior roles at Participant Media, Miramax, Alliance Films, and Universal Pictures. She has extensive international experience, having lived and worked in the UK for 10 years and completed extended assignments in Germany, the Netherlands, Sweden, Japan, and Australia. Krista earned an MBA from London Business School and a BA in Economics from UCLA.